Anyone who tuned in to this week's episode of Atlanta could've easily been forgiven for wondering if they were watching the right show.
Set primarily at an increasingly-bizarre Fastnacht celebration outside of the titular Georgia state capital, the German-themed episode – which, with its cast of creepy outsiders and fair share of uncomfortable moments paved the way for comparisons with the kind of eerie atmosphere which so brilliantly permeated the Oscar-nominated film Get Out – seemed so far removed from the gritty depiction of inner-city Atlanta that you might have expected to see from a show which ostensibly follows the trials and tribulations of a Princeton dropout and his up-and-coming rapper cousin. And it's precisely that sort of unpredictability which has seen Donald Glover's critically-acclaimed dramedy rise to an even higher plateau since it debuted back in 2016.
Atlanta is now four episodes into its excellent second season – titled Robbin' Season, it's due to premiere in the UK on FOX in the summer – and far from suffering from second-season syndrome, it has instead continued to grow and evolve in terms of how it regularly challenges its viewer. Even the aforementioned German episode, Helen, served as an important milestone for Van's character (played by Deadpool 2 actress Zazie Beetz) as she called out Earn's (Glover) shit while attempting to engage with her apparent German heritage – it certainly was a lot to cram into 26 minutes of compelling television.
Atlanta's dizzying mix of real-life drama, genuine laugh-out-loud moments and penchant for the surreal has certainly marked it out as one of the best shows to emerge this decade, and one that you'll find yourself wanting to return to for repeat viewings just to make sure you soaked every last detail up.
But it's Atlanta's surrealism that we want to single out for praise here, particularly as the adoption of that direction has lent so much to the forging of Atlanta's unique identity on TV. Glover has previously described his motivation for creating the show as "I just always wanted to make Twin Peaks with rappers," and so, with that handy segue in place, pour yourself a damn fine cup of coffee and let's just appreciate some of Atlanta's more surreal highlights.
Marcus Miles' invisible car
A vehicle which is perhaps more synonymous with Die Another Day, the invisible car – which made a brief but oh-so-memorable appearance in the first season of Atlanta – is a fine example of the show's tendency to embrace the surreal.
First mentioned in the episode The Club by Darius (Lakeith Stanfield) as just one of the so-ridiculous-it-can't-possibly-be-true possessions owned by fictional NBA player Marcus Miles – who irks Earn's cousin and local rapper Paper Boi (Brian Tyree Henry) throughout – the 'car' itself actually turns up towards the end of the episode as Miles manages to run over a load of people with the vehicle outside a club.
The shooting which precedes the car accident sees the episode take a momentary dark turn, before the arrival of the invisible car then manages to put an entirely different spin on the tragic scene: it's black comedy at its devastating, hilarious best.
The Alligator Man
Season two arrived earlier this month by delivering an odd but strangely satisfying opening episode which introduced us to Uncle Willie. While his exact connection to Earn or Paper Boi isn't exactly clear, his brief appearance on the show managed to squeeze in a police stand-off, a brandishing of a golden gun (another unintentional James Bond reference, surely), and, most bizarrely of all, the emergence of an actual live alligator from his house.
The gator even receives his own walk-out music and slow-motion montage as it makes its escape from Willie's house – and, just like the rest of us watching at home, Earn, Darius, the cops and the local kids just stand and stare; transfixed by this bizarre, brilliant scene.
'Justin Bieber'
The Canadian pop star may or may not love Atlanta, but we'd love to know what he thought of the season one episode Nobody Beats The Biebs. In Atlanta's parallel universe, Bieber is an exuberant African-American artist whose obnoxiousness endears him to seemingly everyone but Paper Boi, with the two coming to a head at a celebrity basketball match in the city.
Speaking about the deliberate disorientation, Biebs' writer Stephen Glover – brother of Donald – said that their subversive depiction of Bieber was an example of "giving people things that make them ask their own questions".
"Our show's super-grounded in reality, most of the time, and we're able to play with reality," he told Vulture. "What would happen in a real way if something's just changed slightly?
"We sent in the script, and this lady who does development at FX sent an email back like, 'Um, can we actually get Justin Bieber to do this?'" he laughed. "She didn't even understand that it wasn't going to be him. She was like, 'How are you gonna get him to do any of this?'
"It was kind of crazy with this show. Once we shot the pilot, people started to be like, 'These guys are a little crazy or different, but we can still trust them. Maybe they know what they're doing.' So with the Bieber episode, they were confused at first. A lot of people were."
The time Migos played themselves – sort of
Glover's love affair with Migos has been long-standing, with the actor hailing the Atlanta trio as "the Beatles of our generation" at the 2017 Golden Globes. His comments kick-started Migos' recent quest for world domination – not to mention his shout-out for 'Bad and Boujee', which helped the group secure their first-ever US number one – and his invite to Quavo, Takeoff and Offset to guest-star on Atlanta was no doubt gratefully received.
Their role in the season one episode Go For Broke was short but sweet, with the group setting up a drug deal with Paper Boi and Darius – the latter two initially thinking that they were going to meet some Mexican dealers, the 'Amigos'. So close, and yet so far.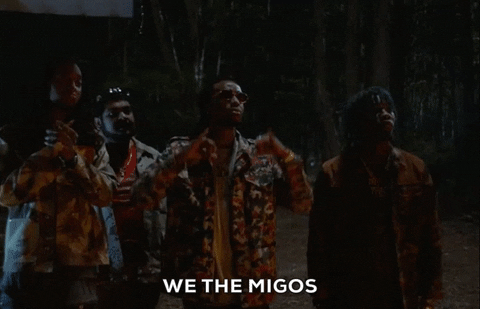 It's a thoroughly odd sub-plot – largely because Quavo was the only member of the group to be given any lines – which is set in a remote caravan in a forest, and ends with Quavo shooting a former associate with a sniper rifle. It's an unsettling moment, sure, but its descent into that dramatic climax is just another marker of Atlanta's strong embrace of the unusual. Speaking of which…
The entire 'B.A.N.' episode
One of Atlanta's greatest episodes to date, season one's B.A.N. felt like a complete shake-up of expectations as the Atlanta rulebook was thrown out the window by Glover, who wrote and directed the episode.
Centred around Paper Boi's appearance on the fictional talk show Montague, the episode sees the rapper being taken down a peg after he's accused of being transphobic for posting some offensive tweets about Caitlyn Jenner.
But 'B.A.N.' really comes to life in the skits and adverts which are inserted at various points during the talk show, with the most notable being an incredible 'real-life' segment which tells the story of Harrison – an African-American who identifies as a 35-year-old white man.
Explaining his 'trans-racial' identity, Harrison says: "Well, I've always felt different. I'd go to the store or the movies, and I'd just be thinking to myself: 'Why am I not getting the respect I deserve?' And then it just hit me: I'm white… and 35."
This subversive satire on the ever-delicate and difficult issue of race in America showcases Glover's clear writing talents, but it's still such a hilariously strange moment – especially when Harrison and the segment's correspondent end the interview by silently nodding at each other for 20 full seconds.
'B.A.N.' is the jewel in Atlanta's surrealist crown – but you can fully expect that Glover and his brilliant team of showrunners will be looking to outdo themselves as season two of the magnificent, boundary-pushing show continues.