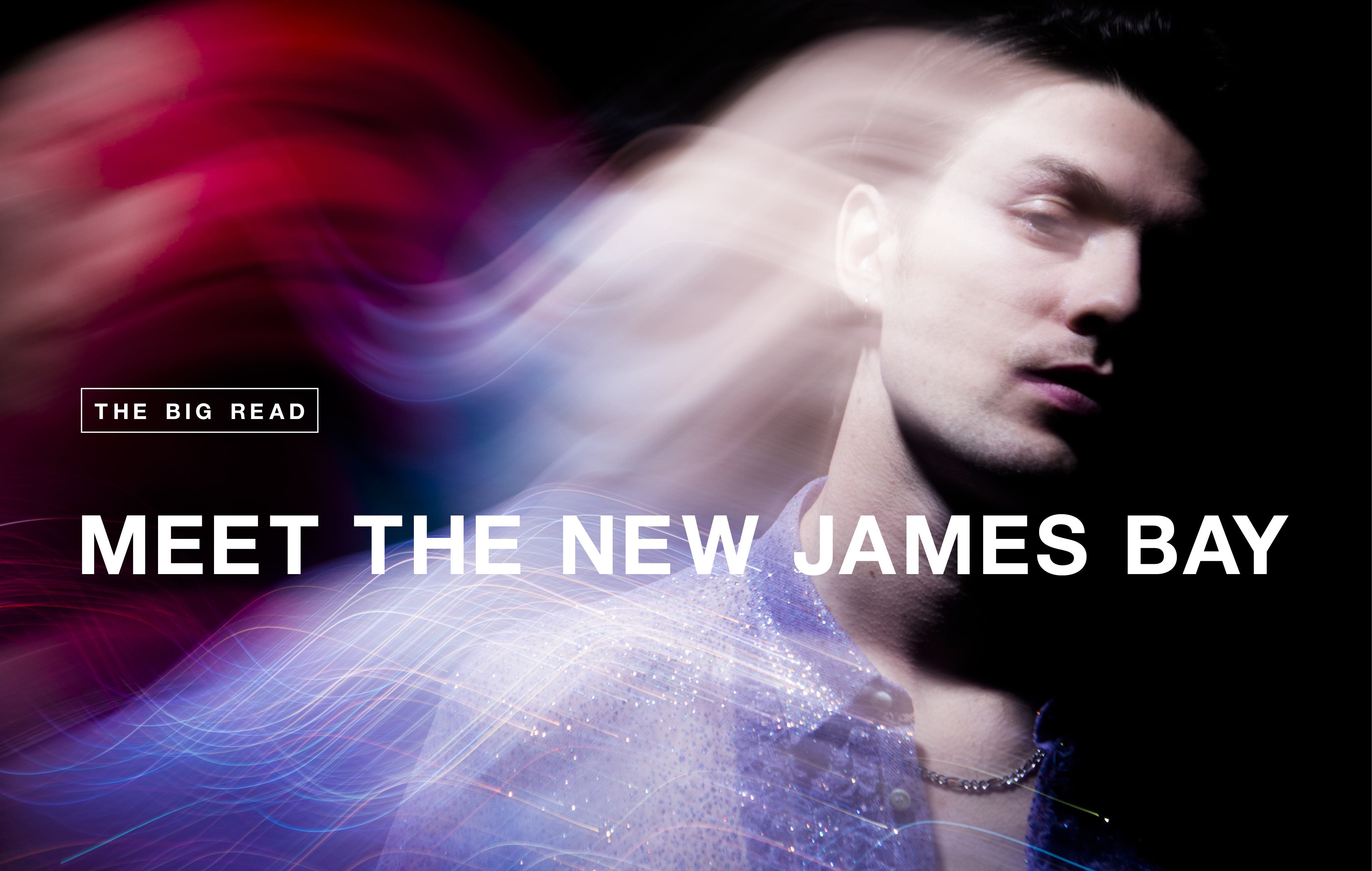 Photo credit: Fiona Garden
Dan Stubbs
May 25, 2018 9:00am
James Bay: 'Electric Light' Orchestrator
It's James Bay! Without his hat! Cavorting with a Stranger Things star?! Channeling Kanye?! Writing the best Strokes song The Strokes never wrote?! Dan Stubbs meets a man of big ambition and sweet-smelling feet
James Bay is absolutely revelling in it. If you ever wonder about the declining budgets of record labels in the post-ownership economy, rest assured that even now they don't stick their golden geese in a Travelodge for the day. NME finds the 27-year-old singer-songwriter lying prone on a rococo chaise lounge in a palatial West End hotel suite that's bigger than most two-bed flats. Around him, the remains of a morning repast of coffees and pastries exists as crumbs and dregs in fine china. "This is absolutely not my natural habitat as such," he says, "but I was just thinking, for everything I'm sure of, the rock n' roll side of everything, something like this is just bliss. And by this, I mean a quiet place."
The chaos and the calm, you might punningly say, except he doesn't. "I'm gonna take my shoes off now," he announces, enthusiastically unlacing an ankle boot. "You know, cos after a while, when you're on carpet, it's nice to take your shoes off. And my feet don't stink, so you're fine."
So that's one thing we know about James Bay: his feet don't stink. But what else? Thanks to the phenomenal success of 2015 debut album 'Chaos & The Calm', Bay has joined the ranks of Artists Who Are Much Bigger Than You Think They Are But Nobody Knows That Much About Them. Co-chairman of the club: George Ezra.
When he emerged from hibernation to kick off the campaign for his impressive second album 'Electric Light', which was out last Friday, the thing that most tickled the internet was the fact that Bay is no longer wearing his trademark hat – a move that dispelled the persistent suspicion that he was hiding either a monk's tonsure or a Damian tattoo above the brim-line. 
This was in spite of the fact that Bay's new music is quite a talking point too: significantly, broader – and significantly better – than his sensitive-bloke-with-guitar debut. The first single, 'Wild Love', was a yacht rock-channeling R&B slow jam that belied Bay's fandom of Kanye West. Is that a bit of 'The Life Of Pablo''s 'Ultralight Beam' we can hear in there? "Yeah," he says. "A lot."
The video for the song saw Bay cavorting with Stranger Things star Natalia Dyer, who plays Nancy Wheeler, the teen girl with the steely expression, the complicated love life and the dead friend. Getting her involved, says James, "Took the most human thing: picking up the phone. 'Hello Natalia, I'm James, you might not know who I am, but I've got a new single coming out, I'll send it to you, I'd love to know what you think and if you're into it, would you be up for being in the video?'"
So there are two more things we know about Bay: he loves Kanye West and Stranger Things, which he binge watched with his girlfriend in his North London home (though he can't get into Game Of Thrones). So which Stranger Things kid would he have been, had he grown up in 1980s Hawkins, Indiana? "Um, maybe Will, maybe Lucas," says James. Then he has another go: "Maybe Will's older brother, potentially. It's obvious, but he's the music geek. And he's a bit introverted." He also dates Natalia Dyer in the show and in real life, but Bay quickly brushes that off as coincidence when it's pointed out.
Bay is a great talker. Friendly, open, attentive and prone to avoiding the completion of stray swear words like a school teacher who momentarily forgets they're addressing children. Early in the interview I tell him I feel like I don't have much of a sense of who he really is from the press, and intend to find out. "You don't know much about me? Great! I'm glad," he says. "It's nice to feel people don't know all that much about you. But I think you have to be pretty adamant that people are gonna know nothing about you if you want that, and I'm not."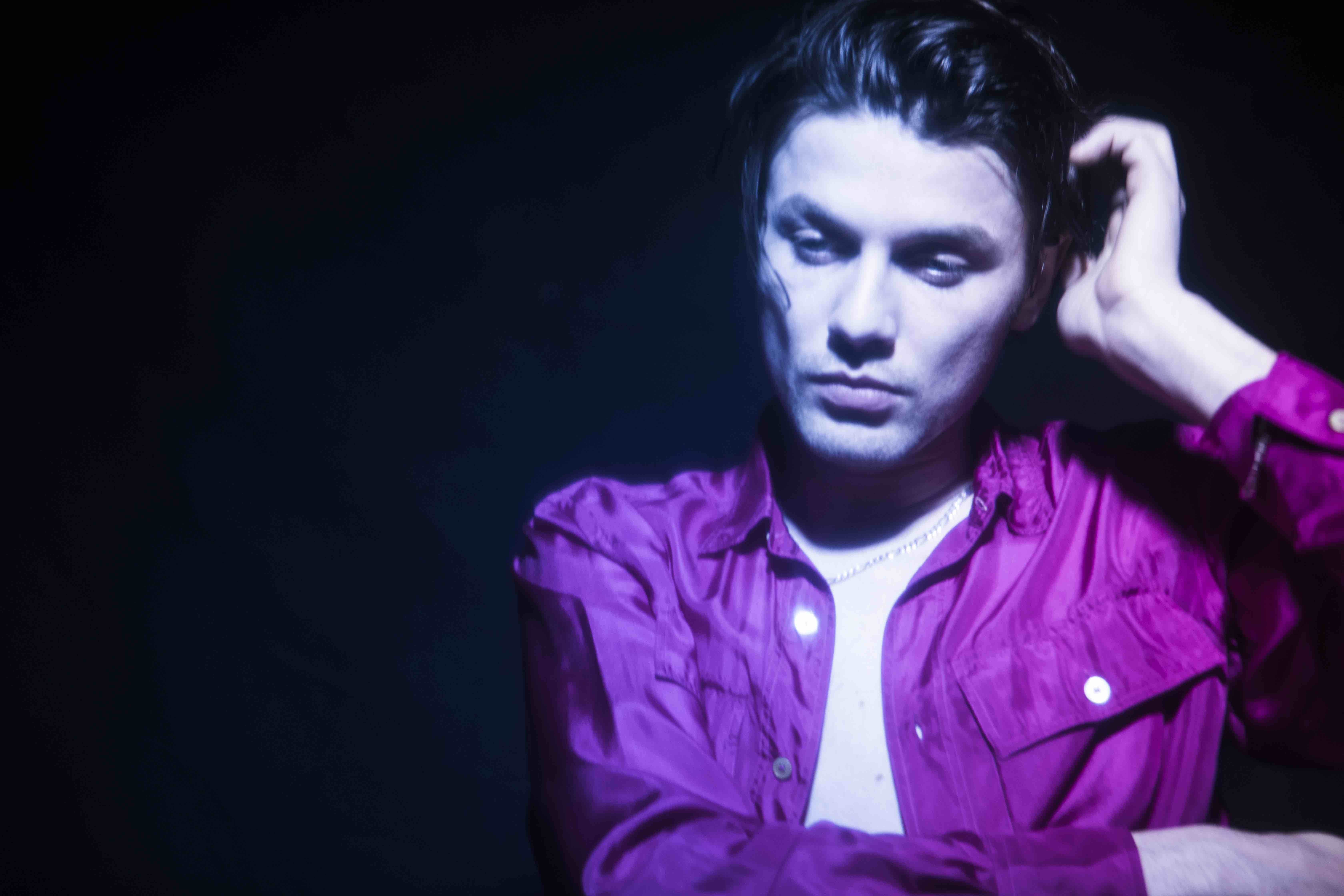 "It's nice to feel people don't know all that much about you."
Photo credit: Fiona Garden
So tell me about yourself. A pause. "I live in Islington and I come from Hitchin, which is about an hour outside of North London, and it's very much part of the commuter belt…"
James Bay is lucky enough to be living what he describes as "a life of travel… no… adventure. I would say travel, but adventure is a way better word."
It is the opposite life to his childhood in Hitchin, which is very much part of the commuter belt, and which is where he was born in September 1990. "I grew up in a very safe town, where it's very easy and safe for a kid to grow up," he says. "It left a lot of room to… like, we all started going to the pub at 15, and I went two or three times, and then I sort of dropped out of that scene because I so loved playing the guitar. So I stayed in. My brother and mates would be, like, 'Where's James? Is he coming? Is he part of it?' I was just like, 'Nah, I'm really digging playing the guitar."
Bay's brother Alex, older by just 18 months, played in bands with him through their teens. "My brother and our bass player, Tom, they looked sick, they dressed like The Rolling Stones or Kings of Leon, fucking brilliant," says James, accidentally letting a swear slip  past. "And I didn't wanna put the effort into that. I looked sort of crap, in my baggy jeans and my dad's t-shirt. But I played great."
Does Alex enjoy James's success? "We still hang out all the time, we live near each other, so that's a good question really," says James. "That's about the best answer I can give you. He's proud. I know he's proud. He's come up, he's a singer as well, he's been part of the backing singers at times, which has always been fun for him to kind of see inside it all."
Understanding Bay's teenage years seem key to understanding what he's all about. If, in most bands, there's one member who feels like they do more heavy lifting than the rest, it's a big deal by then for them to ditch the gang and go solo. Bay went through that in the seclusion of Hitchin's pub gig scene, and had gone solo before the rest of the country paid any attention. Which means that he can have a Strokes-like banger like 'Pink Lemonade' on his new album without enduring anything akin to the apparent unending awkwardness of being in The Strokes at any point since 2009.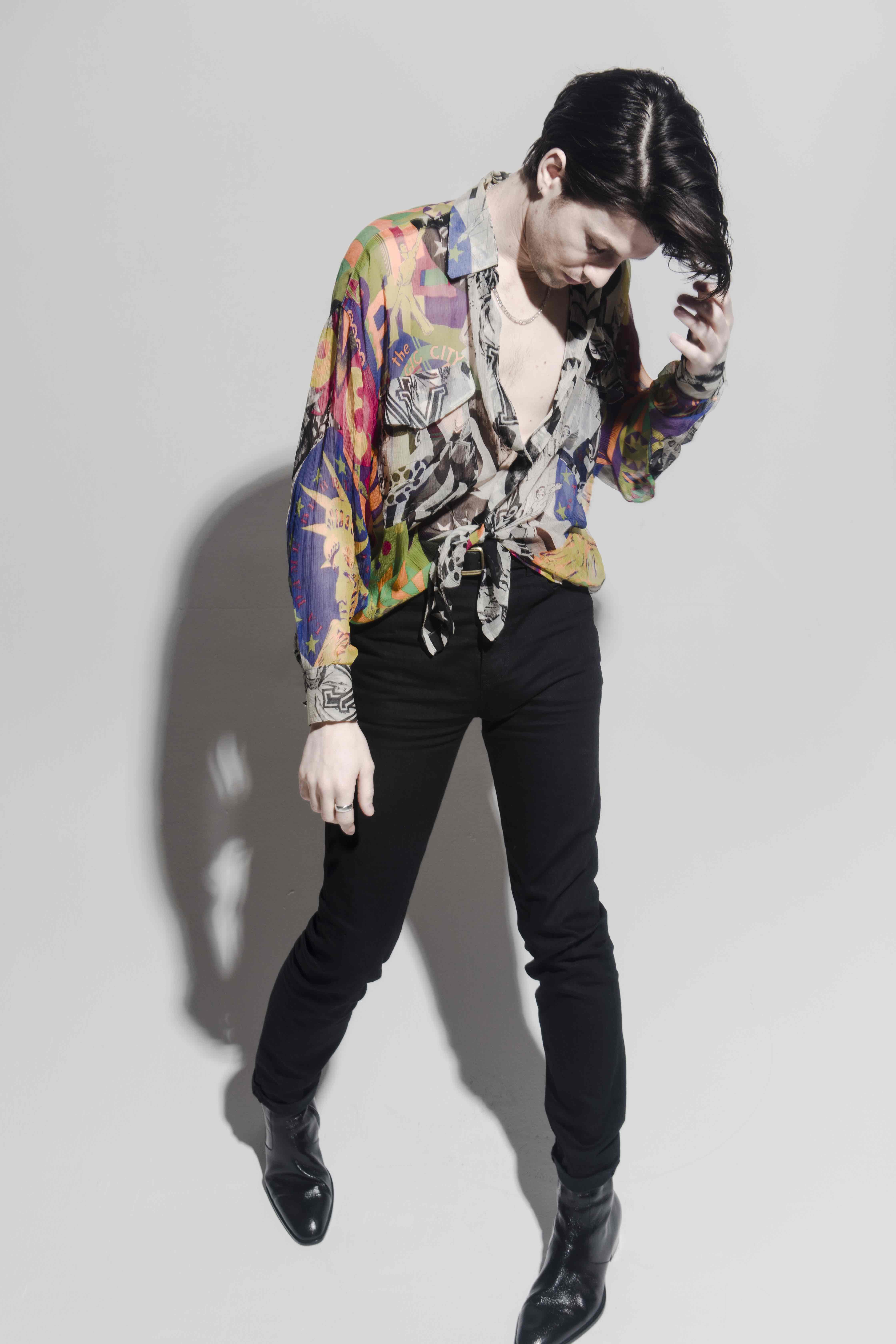 "I used to skip going to the pub with my mates because I was really digging playing the guitar."
Photo credit: Fiona Garden
In his late teens, a solo Bay started gigging around Brighton, where he studied music, and in London, where he was filmed performing at an open mic by a new fan. That video was in turn posted to YouTube, spotted by a label and Bay was signed within a week.
After that, his career ratcheted up in seismic notches, like the time he played acoustic guitar on Justin Bieber's intimate performance of 'Love Yourself' at the 2016 Brit Awards. Are he and Bieber buds? Do they go hellraising together? "I don't like, you know… we don't," says James. "I've met him once or twice before and we had that moment. I think if you're Justin Bieber you're gonna keep it pretty locked down and so yes, it was lovely for me to perform with him, and I hope it was lovely for him too."
That Brit Awards was significant as a changing-of-the-guard moment; Bay won the Critics Choice award for new artists, but by the time the ceremony rolled around he'd become so big he was its de facto headline act, popping up on stage no less than three times.
And in overnight success terms, Bay's biggest hit of all is his second release, 'Hold Back The River', which reached Number Two in the charts in 2014. With that came festival anthem ubiquity. But conspicuously, the wildly different 'Wild Love' only scraped the Top 40 on its release this year. Does that bother him? "I do care about that stuff, but do I make music direct with that stuff in mind? No," he says. "I make music for me, and I make music for my fans, which is a very cool thing to be able to say, that I have fans to make music for."
How did it feel when he first realised he had fans? "Mental. Really wonderful, really great. Really really cool. Suddenly you've got… I mean it's a whole level of purpose, that you suddenly realise you have it."
We talk about how 'Hold Back The River' is the kind of song people play at their weddings, and I ask if he's been invited to play Harry and Meghan's upcoming Royal wedding, hoping for a scoop. "No, not that I know of. Which is alright," he says, before trailing into semi-bafflement. "When is it? Is it soon? It's funny you ask. It's just quite a… it's one of the lesser asked questions."
Finally: an opportunity to sensitively talk about the hat. I blurt: Is the most asked question about the hat? "Of course it is," says Bay. "So go ahead, you're very welcome…"
"I did a 20 minute interview in America recently and [the interviewer] said, at the end of it, 'Please, tell me I'm not the only person who hasn't asked a single thing about your hat or your hair'," says Bay. "I was like, 'I've only just realised, but yes, you are'. So I hugged him."
The hat, which is resting but not forgotten, has its origins back in what Bay was describing of his teenage experience as baggy jeans guitar guy. Putting it on was symbolic, a transitional moment between bloke-in-band and pop-star-in-waiting. "Before I met my label, my managers, I was rolling around Brighton in a hat and long hair playing all my shows like that. Hoping, utterly ridiculously, that one day, if my music goes anywhere, it could be visually recognisable as well. So to say it worked is mad. But there's a human in there too! Or more importantly, there's a musician in there. And that's the reason why anybody is caring even remotely about that look."
Bay's hat and back-length brown hair was his version of Bowie's Thin White Duke: a persona to hide behind. "Music and fashion go hand in hand. They always have, to a degree," says Bay. "And I'm inspired by all the artists that have evolved in that capacity over the time, like Bowie. So I have to sort of explore those kind of things as well, and it was a reaction to the music. I didn't want to sort of present, visually present, this music as the hat and the hair like I did the first. It was intentional the first time, the look. But there was always the potential to lose it too."
And lose it is what Bay did, figuratively and literally – but not mentally – on returning from the 'Chaos & The Calm' campaign, when he hung up his hat for the foreseeable. He was supposed to be taking some time off, but couldn't resist starting work on new material. "I wrote all of these songs, minus one, with a friend of mine called John Green who I've known forever, and he actually lives around the corner from me as well," says James. "When the pressure was zero, at the very beginning of us focusing on making this new album, when the label thought I was on holiday, I wasn't interested in doing that. I said, 'John, Are you free? Let's hang. Let's see what's going on. Let's see what's available.' We listened to loads of stuff, everything from Prince and Bowie and Michael Jackson to Frank Ocean and LCD Soundsystem and Blondie."
The result of this diverse listening, as well as the aforementioned Strokes and Kanye influences, even extends to the hip hop-style skits that book-end 'Electric Light'. "It was all about exploration," says James. "I think it's an artist's duty to push boundaries, and so the choice was stand still or move forward. And standing still comes out as quite boring in the sort of… choice bucket. So I choose move forward."
"I looked sort of crap as a teenager in my baggy jeans and my dad's t-shirt. But I played great…"
Photo credit: Fiona Garden
For Bay, that meant letting loose in the studio. "I had a ball making it. There are programmed drums and acoustic drums at the same time, all sorts of different mad volumes, crazy noises; sometimes it's very intimate and very sort of stripped down, and sometimes less so. The gospel thing is pretty sort of obvious throughout because it's a big sort of passion [of mine]." Do you visit gospel churches to recruit singers? "No, every bit of gospel vocal, every bit of vocal you hear on this whole record is either me, or me and John," he says. "No backing singers involved."
While it's perhaps too much of something-for-everyone to put him in the league of the Oceans and LCDs he looks up to, 'Electric Light' is a bold and brave gambit towards achieving Bay's goal. This summer he supports none other than The Rolling Stones at Wembley Stadium. Next time, he wants to be headlining it himself. "I might as well shoot for Wembley stadium," he says. "The biggest challenge is the most attractive one, and you've only got one run around this. So go for it."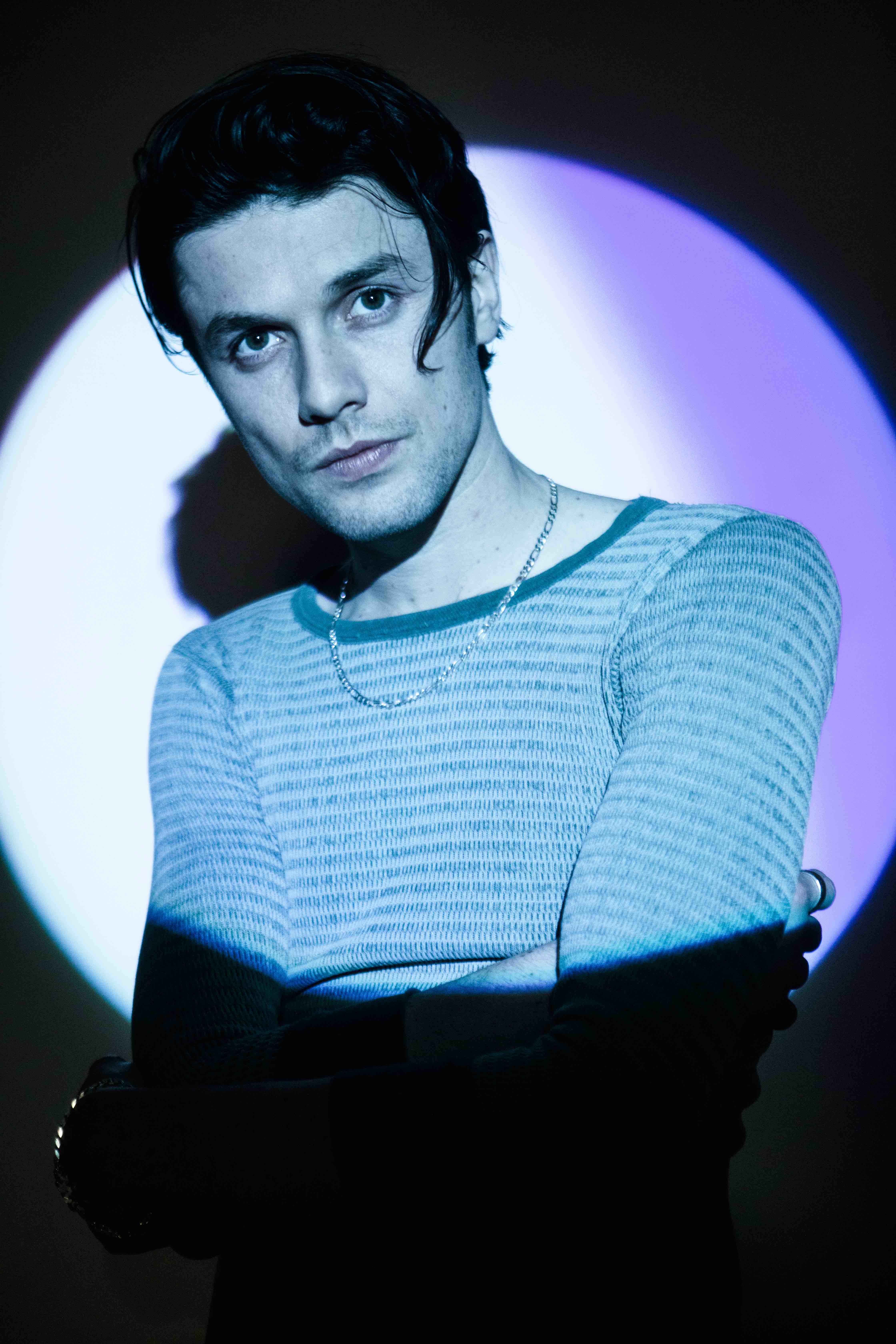 "There's a human under the hat! Or more importantly, there's a musician in there. And that's the reason why anybody is caring even remotely about my look."
Wembley – and the Stones – have personal significance. "My dad was a teenager in the '60s and he was obsessed with The Rolling Stones," says Bay. "He's a big sports fan, mainly rugby, but I remember when I was a kid, just before they knocked down the original stadium [in 2002/2003], he pointed it out and said, 'That's Wembley, I must have been there 25 times.' I thought it was going to be for sport, but he said, 'Nah, five times for Bruce Springsteen and 20 for the Stones'. I said, 'No sport?' He said, 'Nah, that place is for Springsteen and the Stones and Queen: that's a house for great, great music.'"
Bay doesn't think there's any great myth to getting there: hard work will do it. "You can never work hard enough," he says. "I can never be fully satisfied. I'm so proud of some of the things I've achieved and I'm so grateful for all my fans but, truly, and there's always more to do.
So what's next on your list?
"More music! It's not just the sort of media ready answer of, 'I wanna try this' and 'I wanna do that'. Opportunities in modelling and film seem to come in the direction of musicians, more than musical opportunities come up for actors or models, but I wouldn't take a film role yet. One day, maybe." What would be the film that could lure him? Star Wars? O-Bay Wan Ken-O-Bay? "Not a clue. But I mean, Riz MC was in Star Wars: Rogue One." Actually, Bay likes watching concert films most of all: Talking Heads's Stop Making Sense, The Band's The Last Waltz, The Woodstock movie. That's not so much entertainment as research. Always working.
The interview ends warmly, but it's a handshake, not a hug, when NME leaves Bay to his hotel idyll.
"Only journalists who resist mentioning the hat get a hug," he says.
There's another thing to know about James Bay: he's funnier you think, too. Hats off to him.