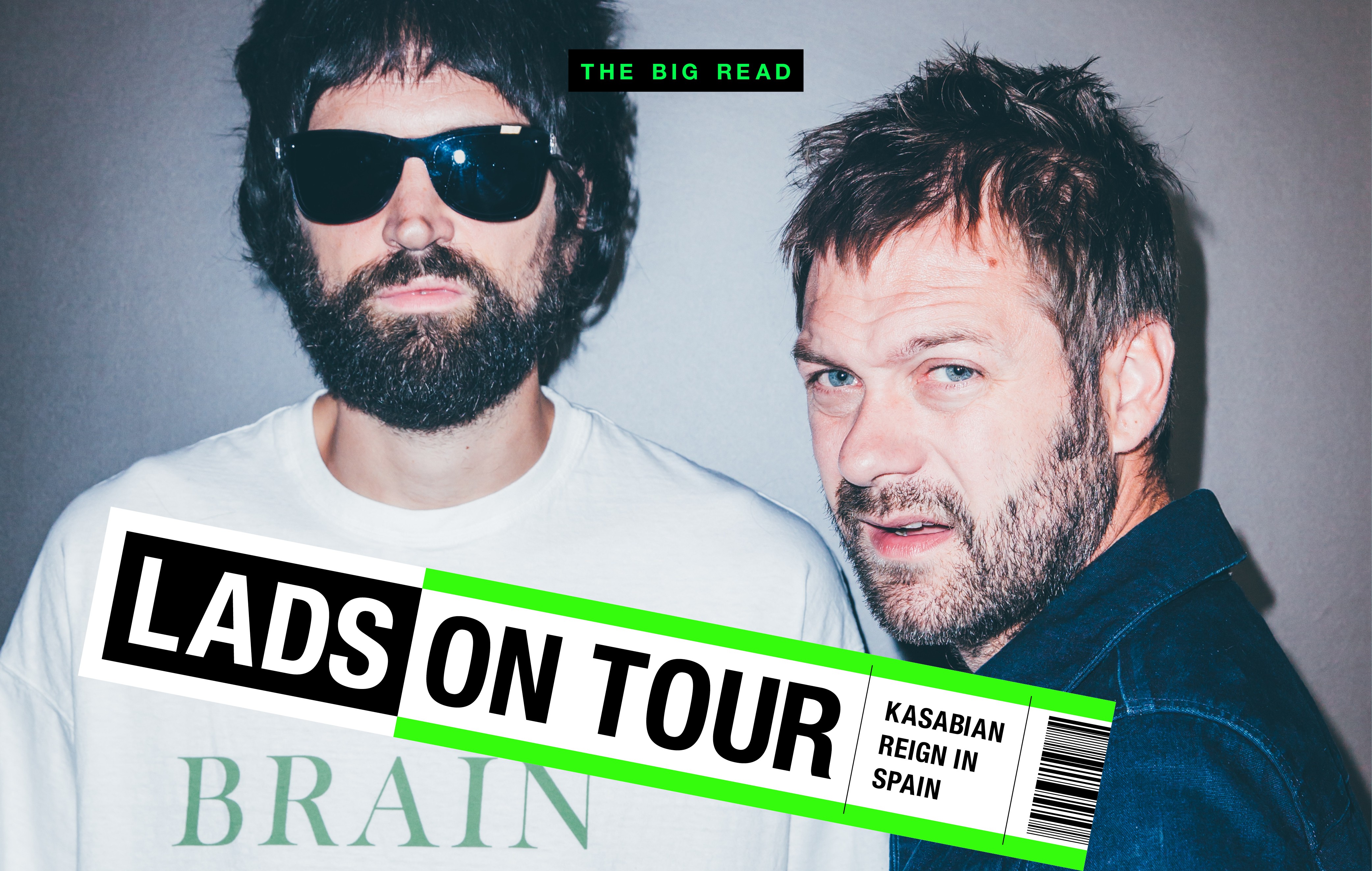 Kevin EG Perry
July 27, 2018 11:00am
Lads On Tour – Kasabian storm the festivals
Enjoying "the battle" of winning over the European festival circuit on a hot, sticky night in Madrid, Serge Pizzorno tells Kevin EG Perry how the "healing power of being on tour" is helping Tom Meighan's get over his personal annus horribilis and how "the world at the moment is a pretty slippery character…" 
It's the day after England's emotional, last-gasp defeat to Croatia in the World Cup semi-final and noted football fanatics Kasabian are bouncing back the best way they know how: by playing a huge festival headline slot at Madrid's mammoth Mad Cool festival.
Backstage, frontman Tom Meighan is sipping a cup of pre-show Yogi Tea that may be helping his voice but is doing nothing to calm his hyperactive personality. He shrugs off last night's result. "It is what it is, we were never going to win it," he shrugs. Right now he's more interested in a bright orange graffiti marker somebody's left lying around. "I haven't seen one of these in years!" he cries with glee, grabbing it and setting about tagging every sheet of paper he can find.
Bandmate Serge Pizzorno cuts a more laidback figure. He's laughing to himself at the length of the seemingly endless guitar solo we can hear emanating from Pearl Jam, who are currently onstage. "He's shredding out there, isn't he?" he grins. "The rest of the band must be like…" and he mimes impatiently tapping his watch.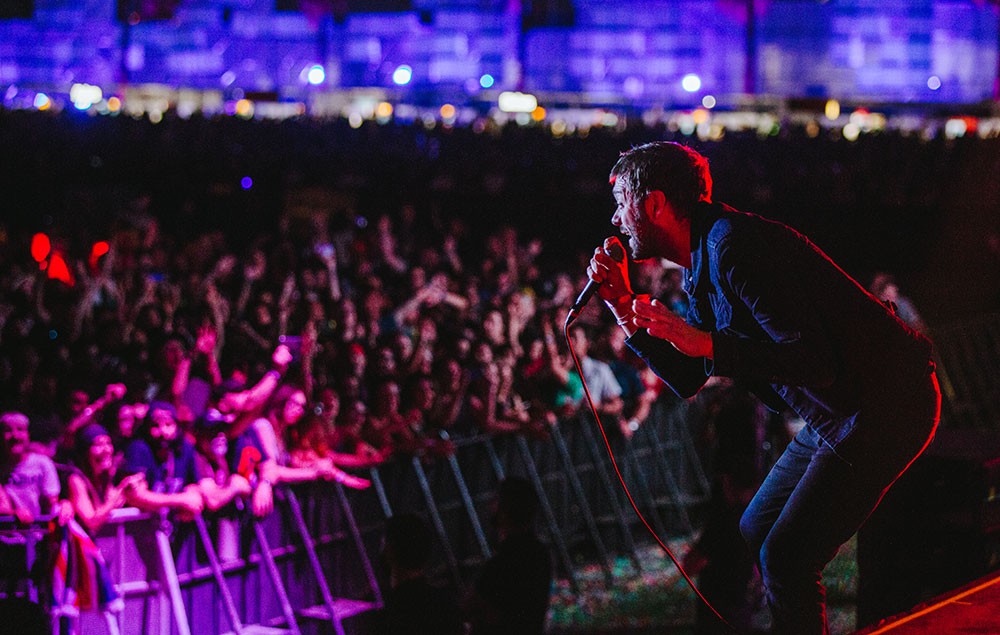 Following an established heavyweight rock act like Pearl Jam might be intimidating for lesser souls, but these days it comes naturally to Kasabian. They're currently in the midst of a summer of huge festival dates and arena shows, including a first-ever performance in Genoa – a special one for Pizzorno, who used to visit family there ever summer. "It's sort of a second homecoming," he says, following all the shows they've played in Leicester down the years.
Kasabian are one of a very small number of bands who've graduated to headliner status in recent years, and Tom sparked headlines at the Isle of Wight festival by claiming that the main problem is that new bands "aren't good enough" to play at the top of the bill.
Clarifying those comments today, Serge argues that their words were – as Rudyard Kipling would have put it – twisted by knaves to make a trap for fools. "This is the problem with quotes," he says with a laugh. "Someone else's interpretation is quite a different thing. It's the one reason I regret not having Twitter, because I could probably come out and say: 'That's bullshit! I never said that!'"
Rather than denigrating new bands, he says, they were simply pointing out that you need several big, radio-hit singles before you can command headliner status. "To headline a festival, I'd say you probably need two or three… let's say two big albums. You can't headline with one big single. That's not how it works. That was the point."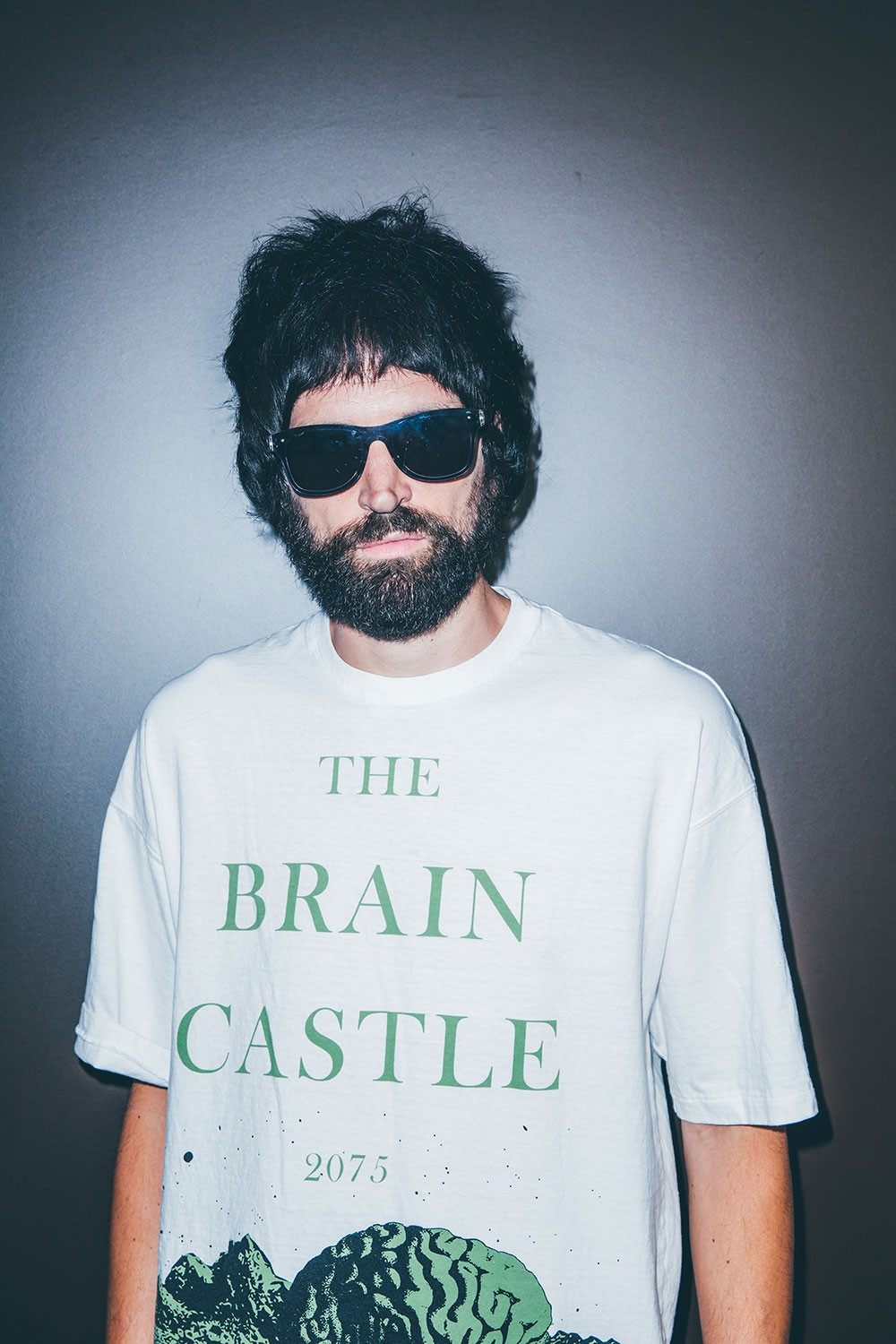 "You don't just go from the studio to the stage and then all of a sudden you're Freddie Mercury"
– Serge Pizzorno
In terms of younger bands with the potential to break through, Serge points to recent tour-mates Slaves: "They're an incredible live band, one of the best live bands I've seen. They're ready. They could headline tomorrow, if they got the radio support they deserve."
He puts their own ability to establish themselves as headliners – memorably proven with their Sunday night set on Glastonbury's Pyramid Stage in 2014 – down to their years playing show after show up and down the UK. That's why he's been such a vocal supporter of campaigns to save small venues. "All these venues closing down isn't going to do anyone any favours, because you don't learn anything," he points out. "You don't just go from the studio to the stage and then all of a sudden you're Freddie Mercury. You need to play hundreds of shows. Over time, after three or four albums, we had enough big tunes to play shows [of festival headline] size. That's kind of it, really!"
You also get the sense that Serge is motivated by a pathological fear of becoming a heritage act. Later tonight, some of the songs that get the best reaction are from last year's 'For Crying Out Loud'. Opener 'Ill Ray (The King)' as well as the rollicking 'Bless This Acid House', the exuberant 'You're In Love With A Psycho' and the superb 'Comeback Kid' are all set highlights.
"To have three or four songs in the set that are as big as the songs from the first record, at this level, that's as happy as you can be," says Serge. "We're lucky that people want to hear that and not just the first album or the second album or the third album. When you've made this many records, as a band of this stature and size, then if people like a few of the new tracks I think you've done a good job. You mean more to people. It's a different thing, isn't it?"
And you avoid becoming a retro attraction? "Oh fuckin' hell yeah, man!" he grins. "On at two in the afternoon and they want to hear the first album in full? Can't be doing that!"
Last year, Tom pointed out that as headline acts of their era go, "There's only us and the [Arctic] Monkeys left on that level." Appropriately enough, the Sheffield band will headline in Madrid the day after Kasabian play. Serge pays tribute to their new track 'Four Out Of Five' – "Props to a man that can put the word 'taqueria' in a song." – and also points out that they've earned the luxury of making a relatively leftfield, single-less album. 
"They have 15 songs that are massive, they don't need any more!" he says. "But I'm sure they're not going to come here tomorrow and play the whole of the new record. They're on a journey, but I don't think it's gone that far west yet."
As for Kasabian's own journey, Serge says that the band – and in particular Tom – are in better place than they were this time last year. Around the release of 'For Crying Out Loud', the singer spoke frankly about his miserable year that had seen him split with his girlfriend, the mother of his child.
"Tom is in a lot better place," says Serge, who clearly cares for his bandmate like a brother. "The healing powers of being on tour and being with your pals, I think that has as much to do with it as anything. It's when you're outside the bubble that things go a bit weird. This is great. What is it, Thursday night or some shit? Where else would you rather be? We're lucky enough to have got to a place where we're late on, there's always a big crowd and there's always excitement."
That excitement and energy must be easy to become hooked on, and hard to replace when you have downtime?
"It certainly is at this stage where you're playing to fifty-odd thousand, because the amount of energy you can create, suck in and then spit back out is really addictive," says Serge. "There's always a sense, especially at festivals, that you've got to kind of win people over. I always like the battle more than anything. Every time there is that element, that makes a band really good, when you see them, is when they've got to work at it. That's when you get it!"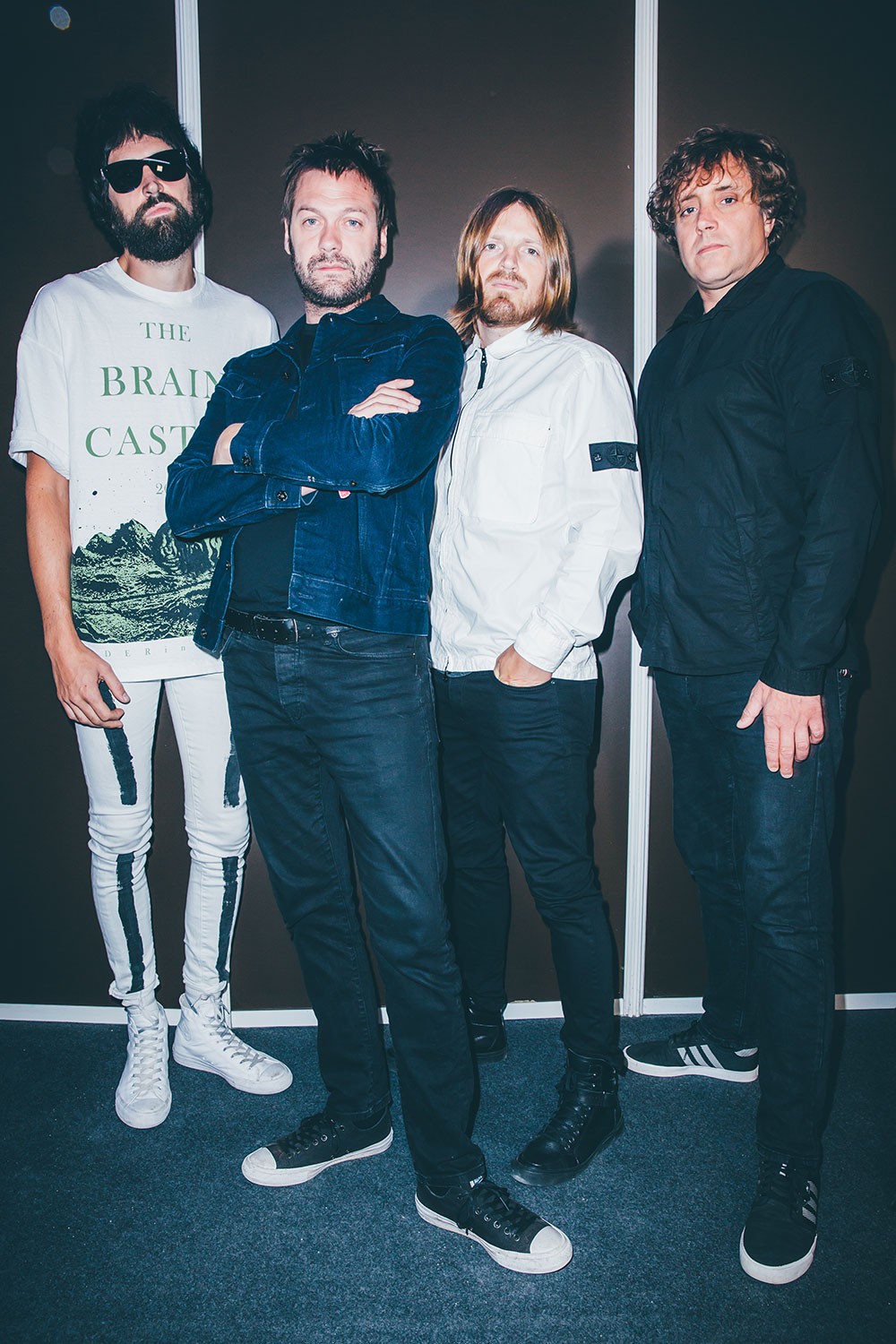 "There's always a sense, especially at festivals, that you've got to kind of win people over. I always like the battle more than anything." 
– Serge Pizzorno
As much fun as they're having on the road, soon thoughts will turn to the next record, and the next three or four big tunes they can add to their arsenal. But not too soon, if Serge is to be believed.
"I'm just collecting and enjoying not having any plans at the moment," he says. "Just listening. Just seeing what's out in the world. Sometimes it's nice just to listen and not say anything. The world at the moment is a pretty slippery character, and everything is moving at a pace that's never been seen before. I'm just enjoying getting back into listening to music."
From the sounds of it, the next Kasabian record could be just as frenetic as the world that it's born into. "Back in the day I would dig for beats, now I sort of dig for hooks and ideas," Serge explains of his listening habits and creative process. "I'll flick through streams and think: 'I like that 10 seconds' and record it, and accumulate them, so now I have this library of things. It kind of explains the world at the moment, because it can go from 10 seconds of thrash metal to two minutes of a 1920s track with a banjo. I don't really know what I'm collecting, but there's always something in there that triggers the next move."
As his earlier joke about Pearl Jam's indulgent guitarist suggests, Serge has never been one to put virtuoso playing above the importance of a good tune. "I've always been more of a studio head," he points out. "I fell into playing the guitar because I grew up at a time when if you were of an age you played a guitar, but my background was always in beat-making. I've always tried to meld the two together."
So that's where you'll find Serge when he's not on the road: digging around in the studio, looking for that spark. That means you shouldn't expect another Kasabian record too soon – but you also wouldn't be entirely surprised if one materialises out of the ether. "Once inspiration hits, I'm in," he says. "I wouldn't rule out when we go to South America getting in a studio and trying to write the whole thing in three days. I also wouldn't rule out going to New York next year for six months. I don't really know, I'm just waiting to see what happens and what it is that makes me think: 'That's what I need to do next.' I just want to make sure I'm excited about it. I feel like it's time for a reset, but I don't really know what that means."
It sounds like it means the chance for Kasabian to start a whole new era.
"On a recording desk you can equalise the desk, where you take everything back so there's nothing on," he nods, sounding remarkably serene for a man an hour away from headlining a major European festival. "All the faders are down, and you think: 'Right, where are we going to start?"