Tom Hanks' wife Rita Wilson has spoken out about a photograph that appears to show her husband embroiled in an "angry" exchange on the red carpet at Cannes.
The viral image appeared to show the Hollywood star pointing his finger at a carpet worker and making a stern face during their conversation.
In the photo, Wilson also has her finger raised and appears to be involved in the discussion.
The couple, who last month marked their 35th wedding anniversary, were in attendance at the film festival to see Wes Anderson's new film Asteroid City, which stars Hanks.
Now, Wilson has denied that any argument took place and said that she and Hanks were simply struggling to hear directions on the red carpet.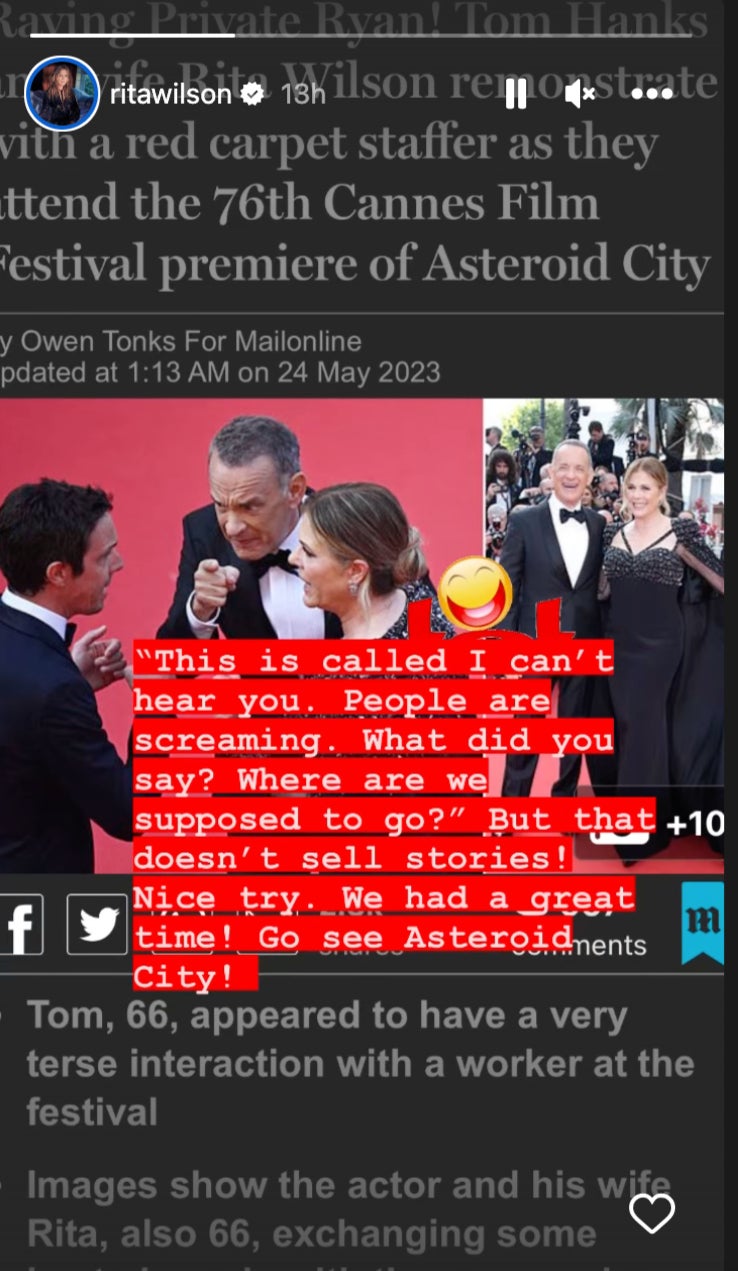 Posting on her Instagram Story, with a screenshot of a Daily Mail article suggesting that the pair had "remonstrated" with the man, she said: "This is called, 'I can't hear you. People are screaming. What did you say? Where are we supposed to go?' But that doesn't sell stories! Nice try! We had a great time! Go see Asteroid City!"
According to the Daily Mail the red carpet worker, Vincent Chapalain, has since also backed up her comments.
"Nothing happened at all, the photo is totally misleading," he said adding that the couple asked him if they should go back to the start of the red carpet with the other stars.
Asteroid City, which also stars Steve Carell, Margot Robbie and a host of other stars, is Anderson's follow-up to 2021's The French Dispatch, which starred Benicio del Toro and Timothée Chalamet.
It takes place in a fictional American desert town in 1955 as students and parents gather for a junior stargazer convention that's disrupted by world-changing events. Asteroid City's story is co-written by Anderson and Roman Coppola.
In a four star review, NME described the movie as a "star-stuffed UFO adventure" and "like all of Anderson's work, it's very affectionate, even if every camera move appears to have been calculated with the precision of a mathematical equation".
Asteroid City will have a limited run in cinemas on June 16, 2023 in the US before its wider release (including the UK) on June 23.