Johnny Depp has been forced to pull out of a trio of concerts with the Hollywood Vampires after fracturing his ankle.
The actor was due to join the band for their New Hampshire, Boston and New York concerts tonight (May 30) and the following two nights (May 31, June 1).
But he and the rest of the band – including, Alice Cooper, Joe Perry and Tommy Henriksen – had to cancel their shows after advice from his doctor.
Depp wrote on Instagram: "My dear friends, I am sorry to say that I have fractured my ankle, which is a drag!!! It began as a hairline break but somewhere between Cannes and the Royal Albert Hall, it got worse rather than better.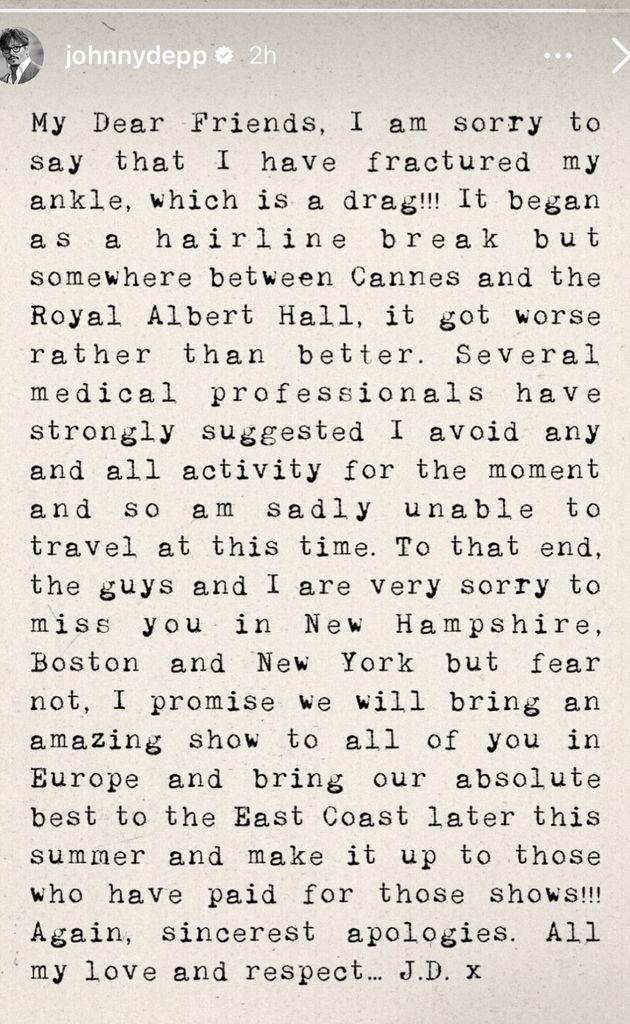 "Several medical professionals have strongly suggested I avoid any and all activity for the moment and so am sadly unable to travel at this time."
He continued: "To that end, the guys and I are very sorry to miss you in New Hampshire, Boston and New York but fear not, I promise we will bring an amazing show to all of you in Europe and bring our absolute best to the East Coast later this summer and make it up to those who have paid for those shows!!! Again, sincerest apologies. All my love and respect, JD x."
Hollywood Vampires also offered their sincerest apologies, writing: "We are sad to share that the Hollywood Vampires will be rescheduling our three US tour dates this coming week.
— Hollywood Vampires (@hollywoodvamps) May 29, 2023
"Johnny has sustained a painful injury to his ankle following his recent appearances and has been advised by his doctor not to travel. He is devastated by this turn of events, but looks forward to resting up so all four Vampires can bring their absolute best to the tour in Europe. All tickets will be honoured for the new dates".
The band are due to perform in Europe next month before they reach UK shores on July 5. Any remaining tickets can be purchased here.
Meanwhile, Depp recently paid tribute to the late Jeff Beck at two special concerts in London.