The Rolling Stones have added fuel to the fire of new album rumours around the title of 'Hackney Diamonds', and have teased a worldwide announcement.
The rock legends appear to be on the cusp of officially announcing their 24th album – likely to be their first record featuring original music since 2005's 'A Bigger Bang' – which many believe is titled 'Hackney Diamonds'.
Today (September 1) the Stones posted an augmented reality video clip of their tongue and lips logo above an entrance to New York City's 59th Street Columbus Circle subway station. In the clip the CGI logo is seen repairing itself from shards of broken glass while a snippet of music is heard in the distance.
The video is captioned, "A new Stones era – Worldwide September 6th. Join at http://hackneydiamonds.com♪ #hackneydiamonds", and encourages fans to visit the site.
A new Stones era
Worldwide September 6th
Join at https://t.co/09XIP65sXt
💎♪#hackneydiamonds pic.twitter.com/uV6xOXKDig

— The Rolling Stones (@RollingStones) September 1, 2023
HELLO WORLD 💥https://t.co/5LeGdRdQpX pic.twitter.com/7P3SlzvSG3

— The Rolling Stones (@RollingStones) August 29, 2023
Hackneydiamonds.com reflects the broken glass imagery from the video, with a warning about "weak glass" that can be virtually shattered to fully enter the website.
A countdown to September 6 is then revealed. Fans can sign up to "join the world" on a mailing list.
Although unconfirmed it appears that this "new era" of the Stones is a new album and worldwide tour. The group's last album was a blues covers LP, 'Blue & Lonesome' (2016).
Last month it seemed that the band announced their new album in a local newspaper.
A print commercial for Hackney Diamonds appeared in the Hackney Gazette. Hackney Diamonds advertised itself as a company that "specialists in glass repair".
But upon closer inspection several clues pointed to the fact that it could actually be The Rolling Stones' new album.
Firstly, in the title their iconic tongue logo is used to dot the i in the brand name Diamonds.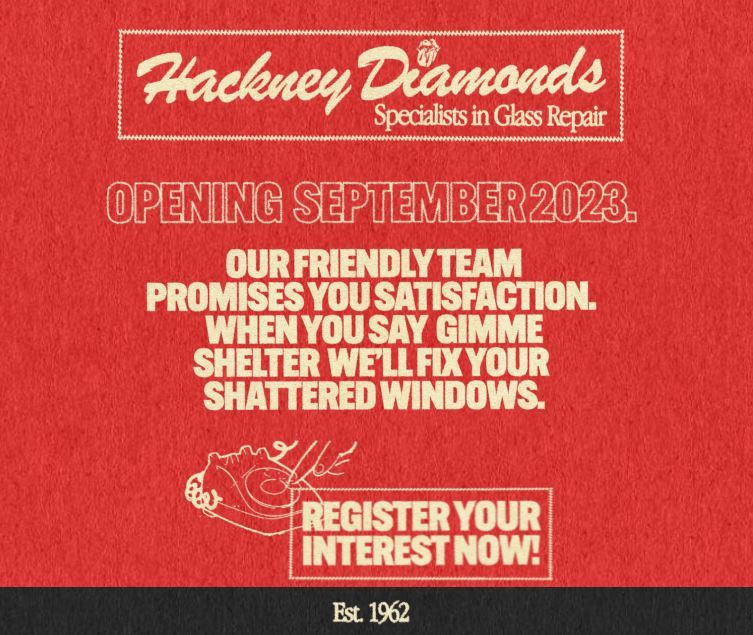 In the advert's body text there were several references to their hits including '(I Can't Get No) Satisfaction', 'Gimme Shelter' and 'Shattered'.
The font used for Hackney Diamonds was also the same as the one used on their 1978 album 'Some Girls' and the ad also said established in 1962, the same year that band formed.
The link to the website also allowed users to register their interest but the conditions listed Universal Music Group, which handles The Rolling Stones' back catalogue.
NME contacted a spokesperson for the band for comment at the time.