The youngest artist to achieve a US number one since 1987; a double Grammy award winner; Time's most influential teenager in the world 2013 – it's Lorde. This week she was interviewed by Marc Maron for his WTF podcast, where she revealed some weird facts you've probably never heard about her before. Check 'em out.
1. She gets vitamin IV drips
She explains: "I had those ladies come, the hot ladies, the drip doctors. You can just pay these ladies 200 dollars and they will just come and shoot you up with this cocktail. It's like all the B's, all the C's, all the electrolytes."
2. She had a pet axolotl
Lorde says she grew up with "every animal under the sun" including an axolotl: a "giant walking water snake."
3. She has Croatian citizenship
That's because her mum's Croatian. "There's 100,000 Dalmatian, Croatian Yugoslav people in New Zealand," she says. "I have Croatian citizenship. I got that for being a fancy famous Croatian. They hooked me up, so to speak."
Croatia Week https://t.co/WYIK9Rb0la #croatiaweek #lorde

— Black Coffee (@AllSaintsDaily1) August 20, 2017
4. Churches make her uncomfortable
Lorde describes herself as a spiritual person, but made it very clear that churches make her feel more than a little uncomfortable. "I am a fan of the awe, the beauty-terror intersection, but it doesn't need to be all god-y. It doesn't get more god-y than a giant beach in New Zealand where the waves are crashing in."
5. She really, really loves Fleetwood Mac's Peter Green
Peter Green – the founder of Fleetwood Mac and writer of hits 'Albatross', 'Oh Well' and 'Man of the World' – is one of Lorde's favourite musicians.
"I go way back with Fleetwood Mac, Peter Green. Where's the Peter Green Fleetwood Mac merch? He's the greatest thing ever. God, I'm obsessed with him. I wish people gave him more credit. He's the best."
6. The Mamas and the Papas make her synaesthesia go wild
1960s folk-rock group Mamas & the Papas' use of modulation and keys sends her senses into overdrive. "I love the Mamas and the Papas. That gets little intense synaesthesia wise. It's the best. Beauty terror. It's horrific and it's wonderful."
7.  There weren't any real instruments on her last album
Listened to Lorde's recent second album 'Melodrama'? Guess what: there wasn't a single 'real' instrument on it.
"In my last record, I had literally not one real instrument. I think it's magical. I come from a culture of no one having any instruments. Sounds come from computers. There's something communist about it."
8. She can't play any instruments
"I feel like you had to read music, which I can't do, to perform at school."
This meant she ended up with a group she called "the other singing nerds" putting together "some sort of crazy barbershop piece."
9. The VMA's was the first time she choreographed a dance
Remember that time Lorde didn't sing at the VMA's?
"I choreographed a dance for the first time at the VMAs the other day," she explained. The flu-struck star had to turn to interpretive dance when her illness led her unable to sing at the 2017 MTV Video Music Awards as planned. Here's what happened…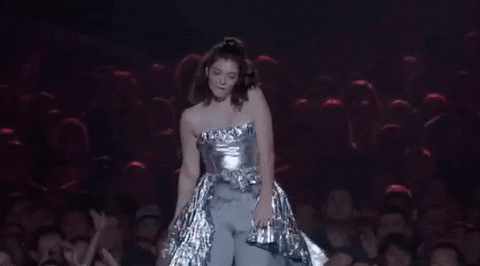 10. She thinks 2001-2007 was the best time for pop music ever
Forget the 1980s or 1990s. According to Lorde the period 2001-2007 was the best time for pop music. "There's the Timbaland moment. We have Nelly Furtado making the most profound music of the 2000s. Justin Timberlake… I saw how powerful it was when you really stuck to the rules of it."
11. Simon Le Bon signs off emails with 'WHOOSH'.
Forget 'Yours Sincerely'. 'Yours Truly' is gone. Take a leaf out of Simon Le Bon's book. 'WHOOSH' is the only way to sign off emails from now on.
Words: Rachel Moore