Danger Mouse Debuts 'Dark Night Of The Soul' – With Help From Ben Stiller and Mr Spock
You'd think an album boasting a dream team of A-list collaborators including Iggy Pop, Frank Black, Super Furry Animals' Gruff Rhys, The Flaming Lips and The Strokes' Julian Casablancas – and spearheaded by producer Danger Mouse, Sparklehorse's Mark Linkous and Hollywood director David Lynch – would be one of the hottest releases to hit record stores in months.
You'd think that, but you'd be wrong. Due to a dispute with Danger Mouse's record label, EMI, 'Dark Night Of The Soul' may never see the light of day, at least not in the traditional sense.
Undaunted by the pesky threat of legal action, the ever-creative producer has come up with unique ways for people to experience the album and the multimedia elements that go along with it. Case in point: the Los Angeles gallery exhibit that opened this weekend with a cavalcade of celebs on hand.

Danger Mouse (far left) with Mark Linkous and David Lynch
The exhibit, which is on display at the Michael Kohn gallery in West Hollywood until July 11, features clusters of oddly fascinating and slightly perverse photographs created by Lynch of 'Blue Velvet', 'Twin Peaks' and 'Mulholland Drive' fame. Lynch said the images are a representation of what went on in his head when he heard the songs, and judging from shots such as these, Lynch's head must be a very surreal, twisted and colourful place indeed.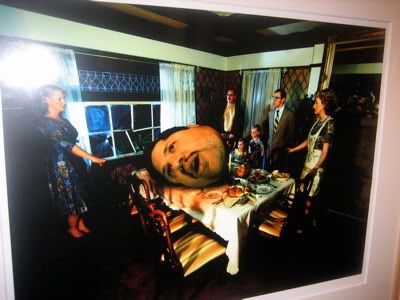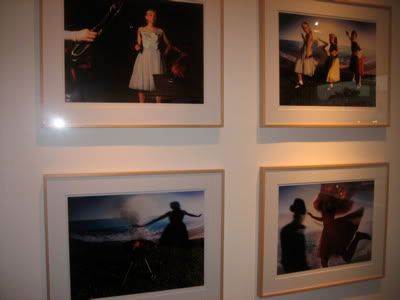 Although the images were impressive, I found myself frustrated because there were no signs indicating which cluster of photos went with which song. I later found out that a blue light flashes above the corresponding photo when its song is played. Who knew? Looks like a return trip to the gallery might be in order.
But it's doubtful it will be as entertaining as the opening night, which saw many of Lynch's muses, such as long-legged 'Blue Velvet' star Laura Dern and 'Twin Peaks' actress Sheryl Lee, as well as Sissy Spacek and Heather Graham, mixing and mingling with the likes of Red Hot Chili Peppers' Flea and uber-producer Rick Rubin.

Zachary Quinto (aka the new Mr. Spock) finds the exhibit an eyebrow-raising experience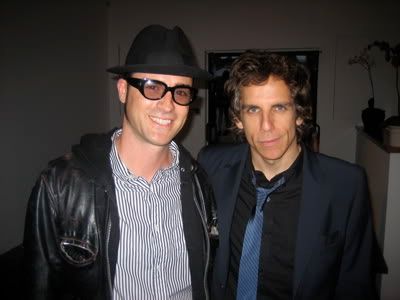 Actors Ben Stiller and Justin Theroux
The new Mr Spock, Zachary Quinto, raised his sizable eyebrows at the photos, while Ben Stiller and his pals roamed the place sipping white wine.
"[Lynch] is an amazing visual artist. It's fascinating how the images go with the music," Stiller gushed.
Meanwhile, The Shins' James Mercer fought his way through the crowd to find the photos that accompanied his own tune.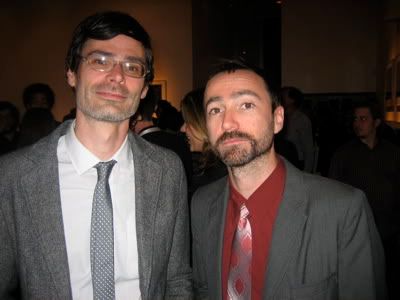 Those unable to visit the gallery can check out the Dark Night Of The Soul book, which features Lynch's images and comes with a blank CD bearing a sticker with the message: "For legal reasons, enclosed CD-R contains no music. Use it as you will." This seemingly innocuous statement is really a two-fingered salute to EMI that encourages folks to download the music for free. While Danger Mouse hasn't been discussing the issue, Mr Linkous is understandably bummed.
"It's a big relief and really gratifying that this is finished," he said, adding, "I just wish people could put it in their stereos. I think it's too good an album to just disappear."
Ironically, it may end up that all the publicity generated by the legal spat will boost the album's profile. Only time will tell. But in the meantime, seems we've got the artists' permission to download away.