Willy Wonka And The Chocolate Factory star Gene Wilder has died at the age of 83, as a result of complications from Alzheimer's disease. A tremendously gifted comic actor, he made classic films such as Blazing Saddles and The Producers, but a new generation will no doubt remember Wilder as much for "Condescending Wonka", a meme based around a still taken from Willy Wonka… First emerging around 2011, the meme's premise is as delicious as chocolate and as simple as the internet itself: identify someone's brag/humblebrag/clichéd statement, overlay it on the still, end on a sarky remark.
It's easy – look:
RIP Gene Wilder. Immortalised by his talent and makers of condescending Wonka memes for eternity. pic.twitter.com/jJSzZgNQsi

— Eoghan McDermott (@eoghanmcdermo) August 29, 2016
I love some of these Condescending Wonka memes! Lol pic.twitter.com/qT2sI3ADeO

— Trevor Sowder (@TrevorSowder1) August 25, 2013
One more to be sure:
https://twitter.com/TheyCallMeTXT/status/770346087873912832
It's a brilliant meme, clearly (especially when you recall those fucking 'Be Like Bill' memes from last year and remember how annoying the medium can be), but in some ways it's a shame that this is how such a generous performer could go down in online infamy. Here, then are seven Gene Wilder moments that are even better than 'Condescending Wonka'.
Desperately calling for his security blanket in The Producers
Leo Bloom, Wilder's character in the movie is nervy and neurotic – not great qualities when you've hatched a plot to make money from a flop theatrical production called Springtime For Hitler. Luckily his blue blanket can soothe him – if only he get a hold of it.
'Putting on the Ritz' in Young Frankenstein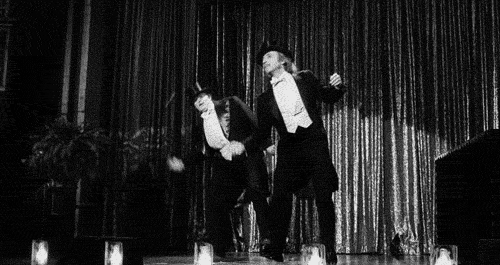 Mel Brooks directed this spoof of 1930s Universal Studio horror movies, but it's Wilder's movie. He conceived this scene in which Dr. Frankenstein (Wilder) performs the song 'Putting on the Ritz' with his creation. Brooks wanted to cut the scene as he thought it detracted from the Universal Studios vibe, but Wilder fought so hard to keep it that Brooks relented.
Calling bigots out as "morons" in Blazing Saddles
Also directed by Brooks, this 1970s comedy Western is an effective – and hilarious – satire on racism in which black sheriff Bart (Cleavon Little) rolls into a hick town and freaks out the locals. The movie's laugh count is ridiculously high – in fact, this takedown of bigots is so good that Little seems to laugh for real.
Hanging out in Blazing Saddles
There are way, way too many hilarious moments in Blazing Saddles to count, but it would be criminal to miss this one. Wilder's character, Jim, is a recovering alcoholic and meets Bart while hanging upside down in the drunk tank. Asked if he needs help, Jim replies, "Oh, all I can get." Jim, you are all of us.
Revealing his inner-workings in this fascinating interview
Wilder agreed to this 1979 interview on The Merv Griffin Show only if the set be closed, so as to enable him to speak more openly. The result is fascinatingly candid. Wilder was close to his mother, who in his childhood suffered a heart attack, an event that affected him greatly. In fact, he reckoned it turned him to comedy. "I think if someone were to read my palm, they would see a sharp curve off [at the time of my mother's illness]," he said in the interview. "I don't know why, I don't know what insanities take place in the mind of comic actors, comedians, or artists in general, but whatever it was inside got veered [towards] trying to make her laugh. That's how I dealt with the pain of not being able to fix her cracked heart. I was six years old, so I tried to make her laugh."
Pausing for aaaaages in Everything You Always Wanted to Know About Sex* (*But Were Afraid to Ask)
Woody Allen's 1972 sketch movie casts Wilder as therapist whose latest patient is a lonely shepherd with a thing for Daisy, one of his sheep. After his character learns of this transgression, Wilder process that timing really is everything by leaving a 25-second pause before muttering, "Oh… God."
Making an entrance in Willy Wonka…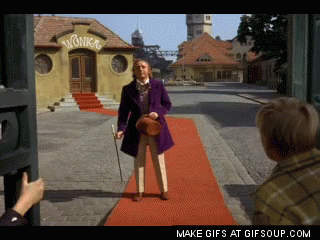 If people are going to remember Wilder for his role in the 1971 adaption of Roald Dahl's book (and so they should – it's a classic), perhaps it should be for this lovely moment, which Wilder hopefully recreated when he rolled up to the Pearly Gates.