Stranger Things is the latest Netflix show to send the world into pandemonium. An incredible soundtrack, arty visuals and a captivating storyline have made the eight-part series a resounding success, but the character fans have fell in love with the most is not the missing Will Byers, but the psychokinetic mystery child Eleven, played by 12-year-old British actress Millie Bobby Brown.
Eleven compensates minimal verbal communication with a very good "almost cry face", facilitating some of the show's most immersive moments. Some fans want to give El a hug, others want to know if she's dead. But what's certain is that Millie Brown's sensitive performance deserves credit for bringing this "alien" to life. And we want to know more about her.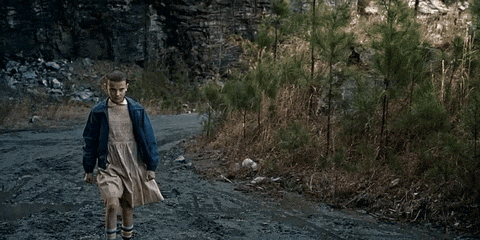 Though her IMDb credit list is not that extensive, you can find out more about Millie on her YouTube channel. Not satisfied with playing 2016's best supernatural character, Millie also appears to be dabbling in music, despite having "no idea what a record player was" before making Stranger Things. She uploads song covers on her iPhone and webcam.
She's covered John Lennon's 'Imagine' in a "female version":
https://www.youtube.com/watch?v=kNI66mxBcnY
Amy Winehouse:
https://www.youtube.com/watch?v=NOfpUO_1L4c
And Adele:
https://www.youtube.com/watch?v=7f4kNdn5ECg
In another video she introduces herself as an "actress slash beginner singer" who's "always loved to sing."
But more digging reveals she's been singing Beyonce since the age of eight:
And she takes song requests! Following her 'Imagine' cover, Millie tells her viewers, "If you have any suggestions for what I should sing, please tell me, I'd love to hear them. I've heard someone wants me to sing 'Hello' by Adele."
Better send them in quick; she's kind of a big deal now.