An image which appeared to diss Harry Styles during Bad Bunny's set at Coachella over the weekend was reportedly not approved by the Puerto Rican reggaeton star.
As the singer, whose real name is Benito Ocasio, performed 'El Apagón' from his recent album 'Un Verano Sin Ti' during his headline show, a tweet was displayed on screen which said: "goodnight benito could do as it was but harry could never do el apagon."
A representative for Bad Bunny has since said Bad Bunny declined to comment, but told Rolling Stone that the artist did not approve the image depicting the tweet.
In response to the tweet, Sturdy.Co, who provided the background visual content at Bad Bunny's show, also noted that the artist didn't approve the appearance of the tweet.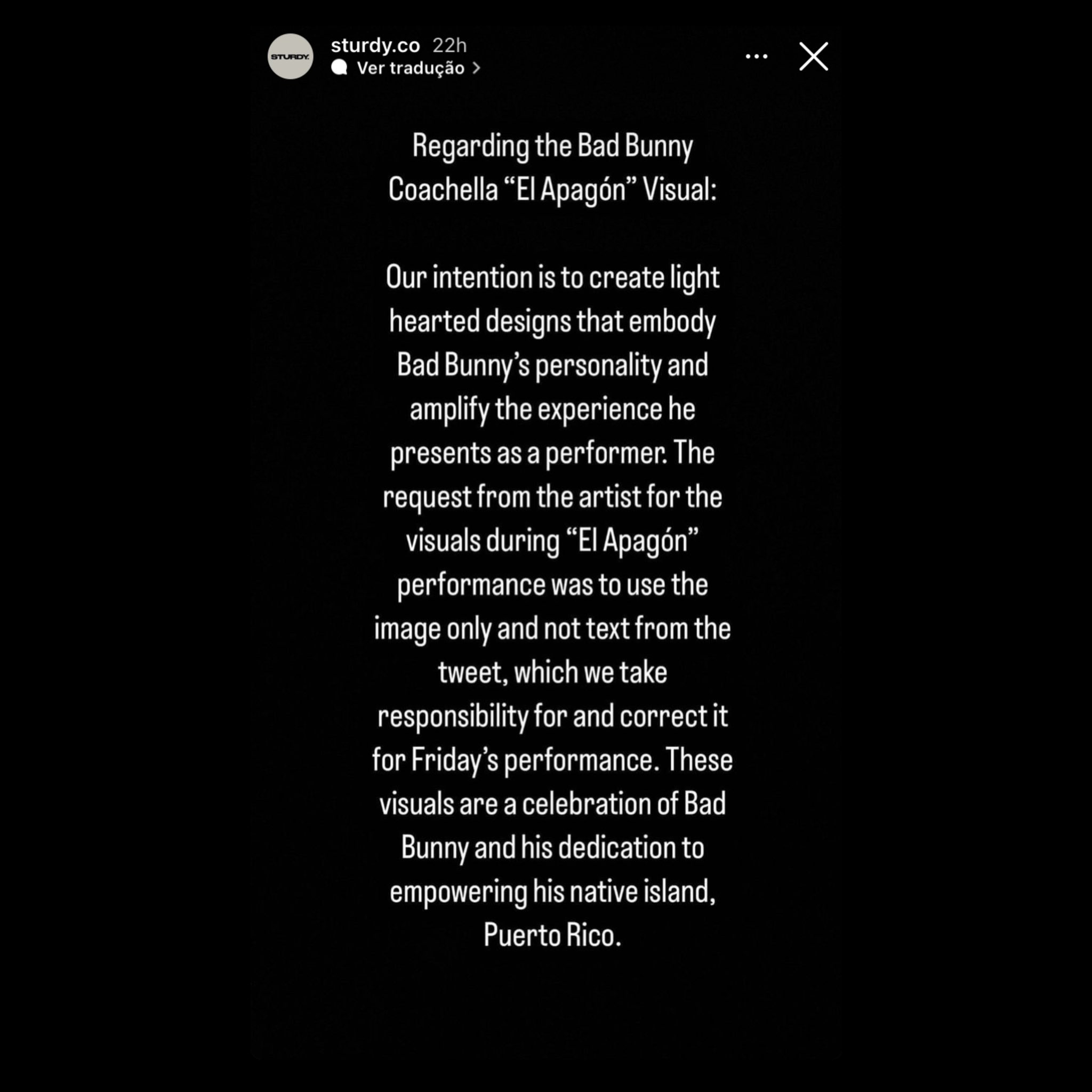 They wrote: "Our intention is to create light hearted designs that embody Bad Bunny's personality and amplify the experience he presents as a performer. The request from the artist during the visuals for 'El Apagón' performance was to use the image only and not text from the tweet, which we take responsibility for and correct it for Friday's performance. These visuals are a celebration of Bad Bunny and his dedication to empowering his native island, Puerto Rico."
The company responsible for the visuals for Bad Bunny's show at Coachella takes responsibility for the tweet posted during "El Apagón" referring to Harry Styles. 🇵🇷🎢 pic.twitter.com/Er3PI1dLf8

— Access Bad Bunny (@AccessBadBunny) April 18, 2023
During the show, Bad Bunny also brought out Post Malone, Jhay Cortez and Jowell & Randy.
Malone joined the Puerto Rican reggaeton star for an acoustic segment of the set, playing guitar for live airings of 'La cancion' and 'Yonaguni'.
Cortez meanwhile came on for a rendition of their collaboration 'Dákiti', as well as versions of 'Tarot' and a cover of Cortez's song 'No me conoce'.
Meanwhile, Frank Ocean closed the California festival on Sunday night (April 16) and received a mixed reaction from fans, with some praising his set while others criticised the singer for being late and ending his set abruptly.
BLACKPINK also put on history-making headlining sets, while Blink-182 performed their first show since reuniting with their original line-up.
Coachella was also reportedly fined $117,000 (£94,494) for breaking its curfew on all three days of weekend one.